MONTHLY TEACHER APPRECIATION CONTEST
Click here to nominate your favorite teacher!
There is no doubt 2020 was an incredibly difficult year for many workers. Almost every business had to reimagine how they interacted and served their customers.
One group that really had to pivot how they did their job and also learn new skills was our teachers. Not only that, teachers always spend a good amount of personal money on school supplies--in fact, some studies suggest many spend upwards of $1000 out of their own pocket. So the attorneys at Diehl & Hubbell decided to give back to these people who are so important in our kids' lives.
To show our appreciation, the law firm of Diehl & Hubbell started a Teacher Appreciation Program in which we award one awesome teacher each month with a $500 check! All teachers from elementary through high school are eligible.
If you know an outstanding teacher whom you feel deserves some special recognition, you can nominate him or her to win! To participate in the Diehl & Hubbell Law Firm Teacher Appreciation Program, fill out the easy entry form below, share the link with your family and friends to increase your teacher's chances of winning, and go back and nominate him/her again. We encourage schools to put the link on their school website to help their teachers receive nominations and for teachers to share the link with their friends, family, and parents of students.
---
Lebanon Christian
Amanda Szeghi
October 2022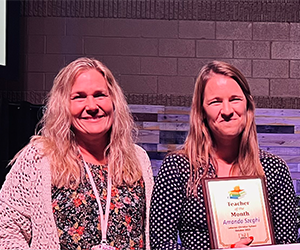 We recently had the opportunity to surprise Amanda Szeghi, 5th grade teacher at Lebanon Christian, in front of the whole school and announce her as her selection as the Diehl & Hubbell Teacher of the Month for October 2022 and her reaction was priceless! Making students who are not interested in school into engaged learners and turning "C" students into "A" and "B" students is the mark of a great teacher! The nomination letters we received told us Amanda does just that! Well done, Mrs. Szeghi! The Law Firm of Diehl & Hubbell was pleased to present her with a plaque and a nice check!
If you have an outstanding teacher who you think deserves some special recognition, please go to our website, Diehlhubbell.com, and click on the Teacher Appreciation tab and tell us who you are nominating and why he/she deserves some special recognition!
Pictured are: Lebanon Christian Elementary Principal Kimberly Cope(L) and Teacher of the Month Amanda Szeghi(R)
---
South Lebanon Elementary
Heather Clements
September 2022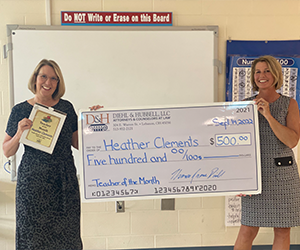 Congratulations to South Lebanon Elementary's 4th Grade teacher, Heather Clements on recently being selected as the Diehl & Hubbell Teacher of the Month for September 2022!
We received numerous nominations for this month, but what really stood out to us about Heather was that a past student's parent told us that this teacher "received praise and thanks in their family dinner prayers" and what a critical part she played in making a very scary and difficult transition to a new school the success that it was and that they are forever thankful for Mrs. Clements!
In recognition of Heather's selection as our September 2022 Teacher of the Month, Diehl & Hubbell surprised her in front of her class with a plaque and some extra cash! Congratulations, again, Heather Clements! Well deserved!
---
Springboro High School
Brandon Yost
May 2022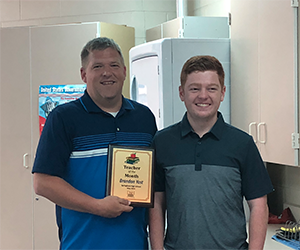 Congratulations to Mr. Brandon Yost, Intervention Specialist at Springboro High School, who was the Diehl & Hubbell final Teacher of the Month for the 2021-22 school year! Mr. Yost jumped into this challenging position midyear and made the transition seamless. The nomination letter from parents Jeff and Jenn Arneson could not have been more compelling! It was clear to them that Mr. Yost took a great amount of his personal time outside the classroom to really learn about the kids, their interests and to prepare for this new endeavor! Mr. Yost believed in Brecken and his classmates and their abilities more than they themselves did, pushed them to do more than they thought they were capable of, and as a result they have learned and grown beyond their wildest dreams! Congratulations, Mr. Yost, and THANK YOU for being "an outstanding teacher who is truly making a difference." In appreciation, we surprised Brandon with a plaque and a check for $500! Pictured below are Teacher Brandon Yost and student Breck Arneson.
---
Waynesville Junior High
Stephanie Krumholtz
April 2022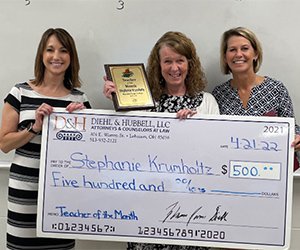 Congratulations to Stephanie Krumholtz of Waynesville Junior High for being the Diehl & Hubbell Teacher of the Month for April 2022! We all have had those teachers who really stood out to us and who we remember and appreciate years after having been in their classroom. When we received a nomination for Stephanie from a student who had been in her classroom years earlier, we knew what an impact she had made! She is the kind of teacher who has done whatever it takes to try to make sure all of her students understood what she was teaching--whether that meant staying after school, coming in early, or meeting at lunch, Stephanie has been and still is there! She is retiring at the end of this year and after 35 years of serving Waynesville Local Schools, we are sure she has put a LOT of her own paycheck back into the classroom with yearly school supplies! We hope she uses this check on herself! Congratulations, Stephanie Krumholtz!
And if you know of an amazing teacher who really goes above and beyond and deserves special recognition, please visit https://diehl.builder.legalfit.com/ and click on the teacher appreciation form to nominate him or her!
---
Waynesville Elementary
Scott Stiles
March 2022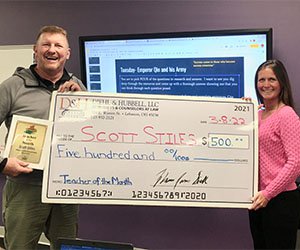 CONGRATULATIONS to Scott Stiles of Waynesville Elementary!! Diehl & Hubbell Attorneys at Law was so proud to honor Scott as the March 2022 Teacher of the Month and present him with a $500 check! Scott has been teaching for over 25 years, and he has not lost one bit of the passion for it! He is still the patient and caring teacher he has always been, and he has a way of driving his students to be their best. Scott "sees the potential in all students and differentiates his educational tactics to meet the needs of all." Scott has also devoted hundreds and hundreds of hours to coaching almost every sport out there and with his background as a U.S. Army Captain, I am quite sure he knows how to lead. Thank you, Scott, for all your service as a teacher, a coach, and a military service member. Congratulations on some well-deserved recognition!
---
Susan Herrmann
Donovan Elementary
February 2022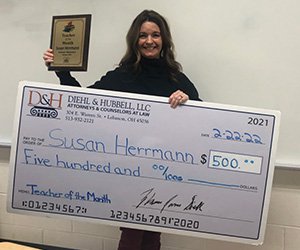 Congratulations to Susan Herrmann of Donovan Elementary in Lebanon for being selected as the Diehl & Hubbell Teacher of the Month for February 2022! In every industry, there are those people who really stand out from the crowd, who go the extra mile, are the cream of the crop! Susan Herrmann is clearly one of those! We received no less than five separate nominations with people describing Susan as: "A rockstar!" "Nothing short of amazing!" "A hero!" From really connecting with students, talking about their interests, to telling really good jokes, she sounds like one of those very special teachers that students remember for life! And parents will remember the quarterly phone calls, the way she helped their students overcome fears, making people smile and feel comfortable in her classroom, and teaching students that they "can do anything they set their mind to." To quote one parent: "The ability to teach the mind of a child is hard work but to be able to teach a mind while doing everything you can to protect their emotional and mental well-being takes a hero and that is what she is." Again, congratulations to Susan Herrmann!
---
Tiffany Page
Five Points Elementary
January 2022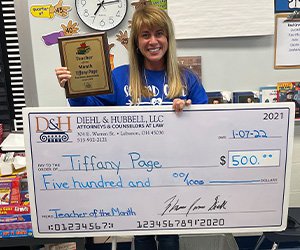 Congratulations to Five Points Elementary's Tiffany Page! Mrs. Page was selected as the Diehl & Hubbell Teacher of the Month for January 2022! We know teachers spend a lot of their own money to buy school supplies. And according to multiple sources, those expenditures have really risen over the past several years. Depending on which survey or study you read, non-reimbursed costs to teachers range from $500 to $750 on average with some spending over $1000 annually. So we decided to increase the award check to $500 in 2022! Tiffany Page could not have been any more stunned or humbled by this recognition. A special thanks to Scott Marshall for sharing the contest information with the Springboro community, Principal Alisha Jung for her support, and to Swapnil Kulkarni for a very strong and heartfelt nomination letter! Mr. Kulkarni wrote that "Mrs. Page is unarguably the best teacher amongst all the other good teachers in the district." Mr. Kulkarni could not be more pleased with the experience his daughter has had and he as a parent has had this year. He cited Tiffany's unbelievable organization, communication, clarity of information and her nurturing nature among others as reasons Tiffany absolutely deserved this recognition. Again, congratulations to Tiffany Page and thank you!
---
Andrea Conover
Berry Intermediate School
December 2021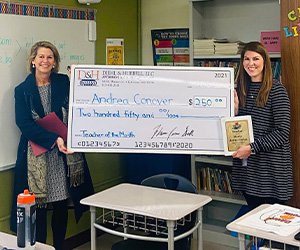 Andrea Conover of Lebanon's Berry Intermediate was named the Diehl & Hubbell December Teacher of the Month. One of the reasons we started this was because we know teachers spend a lot of their personal time and money for the benefit of their students. Of course, the first thing Mrs. Conover said when she received her $250 check, was "Well, class, it looks like I will be doing some book shopping!" And that love, generosity and dedication is exactly what others have witnessed in Mrs. Conover. The person who nominated her wrote about how Andrea "works tirelessly planning creative lessons and projects to keep her students passionate about learning." Mrs. Conover mentors new staff, sharing her ideas and creations, setting aside time each week to guide her colleagues through ideas while still being open to new ways to grow her own classroom as well. Mrs. Conover goes far beyond expectations and is an indispensable asset to the Berry staff. We think they have a true gem in her! Congratulations, Andrea Conover!
---
Kristy Reuber
Donovan Elementary School
October 2021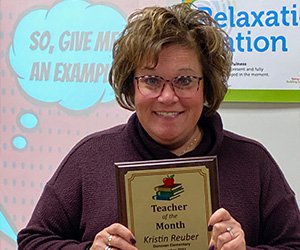 Congratulations to Kristy Reuber of Donovan Elementary! DIehl & Hubbell had the privilege of honoring Ms. Reuber as the Teacher of the Month for October! She received a $250 check as well as a plaque commemorating this recognition. Congratulations, Kristy!
---
Terri Harris
Lebanon High School
September 2021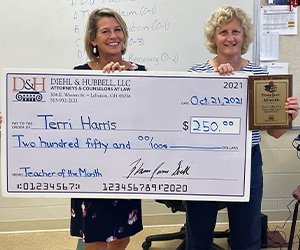 We would like to congratulate Terri Harris for being chosen as the Diehl & Hubbell "Teacher of the Month" for September 2021. Terri exemplifies dedication, leadership, and kindness. The care that she shows for her students, not just as students, but as people is more impactful than even she probably realizes. Students told us how she "goes out of her way to help us" and that Ms. Harris is one of those teachers that you are so lucky to have had the privilege of having as a teacher. In fact, student said that they want to do well on her tests, of course, because they want a good grade in AP U.S. History to AP Government, but more so because they want to make Ms. Harris happy. She is interesting, leads great discussions and is passionate about her works. To sum it up, we were told "Ms. Harris is genuine and real and truly deserves to be recognized for her hard work." We agree !! Congratulations, Terri! Well done and thank you for all you do!
---
Rosie Demos
Primary Village South, Centerville
August 2021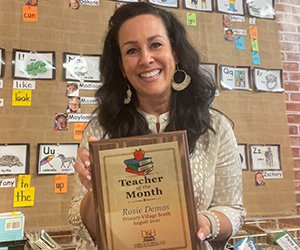 Kind. Organized. Caring. These are a few of the wonderful words we heard about Rosie Demos, First Grade teacher in Centerville School's Primary Village South! "She brings a class together even when they are apart.""Mrs. Demos puts students first."
She is truly a special person and teacher. Words from a parent(who also happens to be a teacher): "The first couple of weeks were really tough for him. He struggled with remote learning and I watched a first grader begin to get anxiety and a dislike for school. As a teacher myself, this was heartbreaking. Then came our fresh start! My son was transferred into Mrs. Demos' class. My son immediately loved her kind nature and organized teaching style. It is hard to make students feel cared about through a screen, and yet, that is exactly what she did. My son felt loved and appreciated and quickly found his zeal for school again."
Congratulations, Mrs. Demos, and thank you for all you do!
---
Lora Jenks
Mark Twain Elementary
May 2021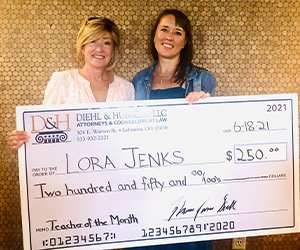 Congratulations Lora Jenks of Mark Twain Elementary on being selected as the Diehl & Hubbell "Teacher of the Month" for May 2021! We were told, "Lora is the most selfless and caring person I know. She certainly deserves this recognition!" And we couldn't agree more! Lora Jenks is a 2nd grade teacher who taught in & out of the classroom since the pandemic began. This past year she personally purchased: a laptop, a tripod selfie stick for making videos, organizational crates and tubs for individual supplies and materials, transparent masks for teaching phonics, and toys for indoor recess. She hand-delivered materials to her students' homes. Lora worked with parents to help them access district resources like technology, food, and helped problem-solve issues with their students' technology. Lora taught students with Individualized Education Plans (IEP) and students who received extra reading intervention. Given the nature of the school year, she has spent extra time focusing on social emotional learning, helping students manage stress, dealing with changes, unexpected events, and working to build stronger relationships. Sometimes, students joined her "Google Meet" session while they completed their online work, just to feel connected and to talk. Her "Google Meet" link remained open the entire day. Lora truly goes above and beyond! (Pictured from left to right: Christine Kinderdine, who nominated her; Lora Jenks)
---
Janis Rydalch
Lebanon City Schools
April 2021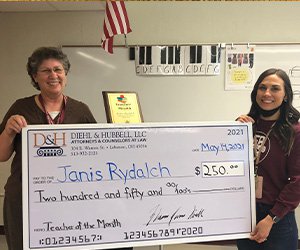 Congratulations to Lebanon City Schools Teacher Janis Rydalch who was selected as the Diehl & Hubbell Teacher of the Month for April 2021! Janis managed to teach orchestra to 7 different grade levels (Grades 6-12) in 3 different school buildings as well as multiple sections of 5th & 6th grade music classes each and every day. This meant that Janis juggled being in three different buildings, three different classrooms, and adhering to three different sets of pandemic protocols in each building. Her car is her traveling office of supplies and files since Janis is never in one building for an entire day. Janis personally supplied her own materials and spent her time at home to handmake matching masks so that her orchestra students would look uniform for concerts. Janis taught in-person 5 days per week every single week since August 17, 2020 and had perfect attendance throughout the pandemic! For these reasons and more, we felt Janis exemplifies what it means to "go above and beyond" and is more than deserving of recognition! Congratulations, Janis! Well done and thank you for all you do!
---
Gregory Kline
Springboro Intermediate
March 2021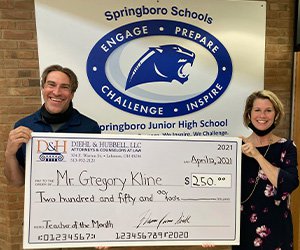 Out of the 100+ nominations we received, Mr. Kline's really stood out to us because of all the examples of how he truly embodies the "go above and beyond" for his students. Mr. Kline supports his students not only in the classroom but also outside of class time. Some examples include: holding a Zoom meeting on a Sunday afternoon to help a struggling student prepare for an upcoming math test, personally delivering a forgotten calculator to a student's front porch when that student was quarantined and unable to come retrieve it from school, and providing a get-well basket for a quarantined student's family! Mr. Kline also is there to cheer his students on at their sporting events! Thank you, Mr. Kline, for all you do!
---
Jerome Noe(pictured with Principal Cliff Franz)
Donovan Elementary
February 2021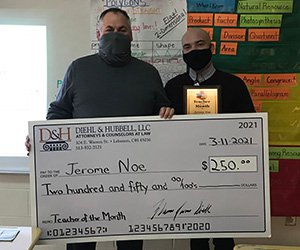 We heard from so many parents, students and co-workers about how much Mr. Noe has positively impacted his students. One story that really moved us was when he personally drove out of his way to a student's house to hand-deliver work when a family was quarantined. We heard about Mr. Noe's passion for teaching, how he truly cares about his student's well-being and how much FUN he brings to learning! One parent mentioned to us how Mr. Noe has transformed their student from one who struggled to get up in the morning and never wanted to talk about his day, into a boy who now enjoys and looks forward to school and is excited to tell them about what he has learned, all thanks to Mr. Noe! While we were there, one student told us how he used to hate math and now he actually enjoys and looks forward to school and is excited to tell them about what he has learned, all thanks to Mr. Noe! While we were there, one student told us how he used to hate math and now he actually enjoys it! Congratulation and well done, Mr. Noe!
---
Debbie Boylan
Berry Intermediate
January 2021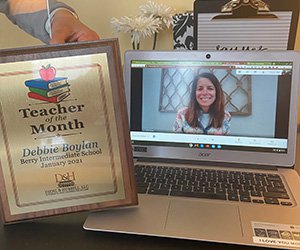 Debbie is a special teacher who clearly does go "above and beyond" for her students. We heard about how in an in a year that has posed many challenges, Mrs. Boylan has been a beacon of light to her students. She created a "Bookmobile," a mobile library utilizing her own vehicle and supplying books she has bought with her own money and resources so students have access to books. Mrs. Boylan also created other programs like: "Geo Buddy" a program where students send and receive postcards from all over the globe teaching students about culture and diversity; we were told about how Mrs. Boylan volunteers her time by mentoring struggling students and has lunch with them 1-on-1 to provide a safe space to speak about life; Debbie supports other teachers by participating in the "Cincinnati Buddy Walk" for children with Down Syndrome and Cerebral Palsy. Debbie Boylan is truly a wonderful teacher with a big heart!