Get Your Free Copy Of Our Book
When you become a client at Diehl & Hubbell, LLC, we begin protecting your claim immediately. As soon as you contact us, we will investigate the scene, preserve evidence, obtain medical documentation and begin building your case. Did you know that what you say or do in the short time between an automobile accident and your call to a personal injury lawyer can affect your claim?
Attorney Thomas J. Diehl wrote "Your Ohio Motor Vehicle Accident Claim: 7 Big Mistakes to Avoid". Contact our law office in Lebanon to get your free copy.
"I represent injured victims, not insurance companies, and have since 1988. My priority is to help make sure you get the maximum compensation you deserve." —Thomas J. Diehl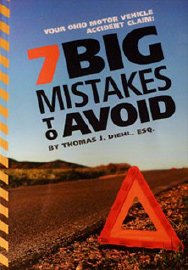 What You Say Can And Will Be Used Against You In A Personal Injury Case
Insurance companies are businesses that need to earn a profit to keep their doors open. They will look for reasons to deny or underpay your claim. One of the biggest mistakes you make is saying certain things that adjusters use as evidence that you were at fault or are unreliable as a witness or that otherwise undermines your claim. Adjusters are trained to solicit these statements from you.
This could include:
Guessing at facts such as speed or distance

Apologizing, even if you only intended to convey empathy for those involved

Admitting that you did not have 100 percent of your attention on the road

Talking about the last time you had something on your car repaired

Giving ambiguous statements, even as common introductions on the phone, like "I feel OK" in response to "How are you today?"
We Believe All Victims Should Have The Tools To Protect Their Claims
You don't have to be a client to get a free copy of our book. Please contact our law office or complete our online form and we will send you a free hard copy of the book that could help you protect your claim after an accident.