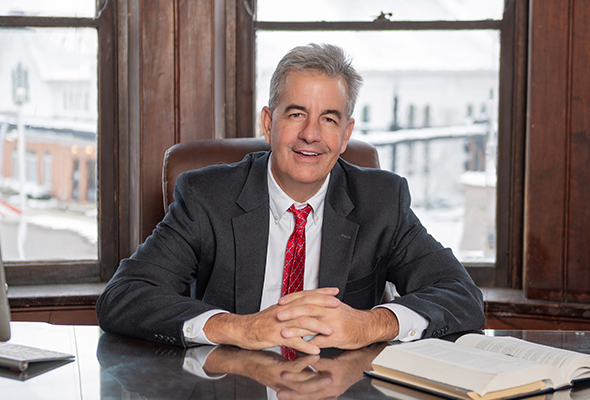 Thomas J. Diehl grew up in Centerville, Ohio and graduated from Centerville High School in 1981. He graduated with a Bachelors of Science in Business Administration from Miami University in 1985, and received his Juris Doctorate from the University of Cincinnati, College of Law in 1988.
Mr. Diehl passed the Ohio and United States District Court, Southern District of Ohio Bar examinations in 1988, and has been licensed and in good standing with the Ohio Supreme Court and Federal District Court since 1988. He has been in private practice with his main office in Lebanon, Ohio since 1989.
Thomas J. Diehl represents people with claims for physical injuries and economic damages arising from motor vehicle accidents. In his 30 years of practice, Tom has handled over 3000 injury cases and he's recovered over $50 million for his clients.
My only concern is obtaining the best possible outcome for my clients.
Tom has been the lead chair in over thirty jury trials including a case featured on 20/20 television news magazine, National Public Radio, and other publications of general circulation. He has been lead counsel in many cases published in Ohio including: Bemmes v. Public Employee Retirement Board (1995), 102 Ohio App.3d 782; Togo International, Inc. v. Mound Steel Corp. (1998), 106 App.3d 282, Burnell v. Dulle (2006), 169 Ohio App. 3d 792, Willis v. Gall, 2015 Ohio 1696.
Tom served as an acting judge for the Warren County Court in Lebanon, Ohio from 2001 through 2005 and is active in the Ohio Association of Justice, Southwest Ohio Trial Lawyers Association, and the Ohio State Bar Association. He has served on the Executive Committee as both Treasurer and President of the Warren County Bar Association.
Mr. Diehl has been selected as a Fellow of the Litigation Counsel of America, an invitation-only trial honorary society consisting of less than one-half of one percent of American lawyers. Mr. Diehl is also a member of the Million Dollar Advocate Forum, which is limited to attorneys who have won million and multi-million dollar verdicts, awards or settlements. Tom has been named as one of the Top 100 Trial Lawyers by the National Trial Lawyers Association (Ohio Division).